My Winterproof AM/PM Skincare Routine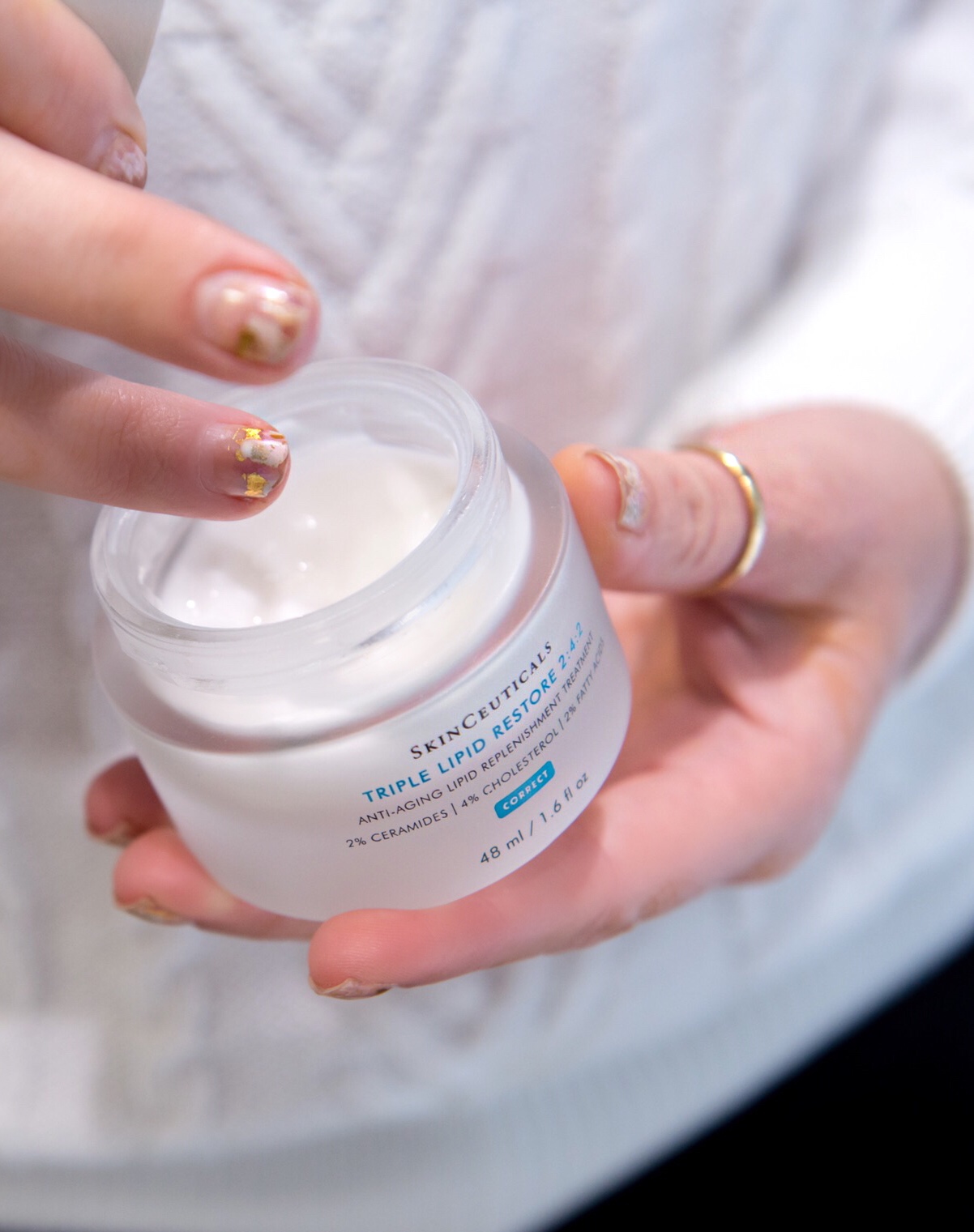 A huge thank you to SkinCeuticals for the opportunity to review their Triple Lipid Restorative Protocol Facial and for the AH-mazing new skincare routine!

We've all heard about winterizing our houses and cars to prevent damage during cold winter months…so why not winterize our skin too?!
I have come to terms with the fact that my days frolicking in the San Diego sun have taken a toll on my complexion. Melasma and hyper-pigmentation creeping up like a stalker on a mission around my upper-lip and forehead in particular.
Having moved to Utah last year, I have also noticed that my minimalistic skincare routine doesn't quite cut it for the dry climate I live in now. Fine lines are starting to creep in no matter how much water I drink.
My immediate inclination was to run to the nearest med-spa and go bananas with some injectables, but I decided it might be good to try switching up my skincare routine and find a line that really focuses on preventative and corrective measures.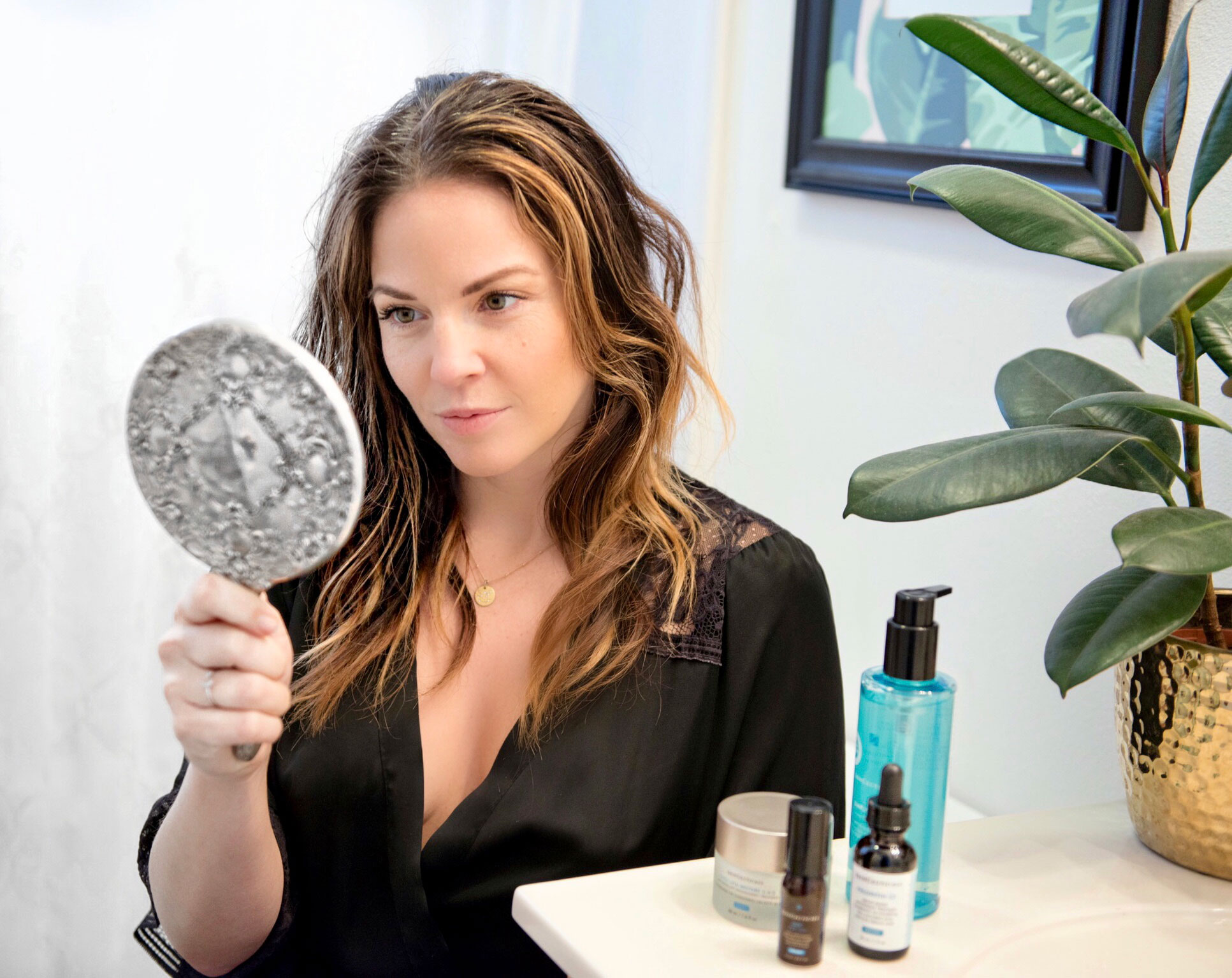 I had heard great things about SkinCeuticals and that their line is not only dermatologist approved, but it is backed by science. Their philosophy focuses on protecting, preventing and and correcting skincare issues, which is music to my ears, and right in line with what I have been looking for in my new skincare BFF.
Turns out, this line is so good, you can't just get it anywhere. So I booked an appointment with Dr. Hadley's team at Ogden Clinic in Bountiful, to kick things off with a Triple Lipid Restorative Facial and get a customized regimen after their skincare gurus assessed the damage.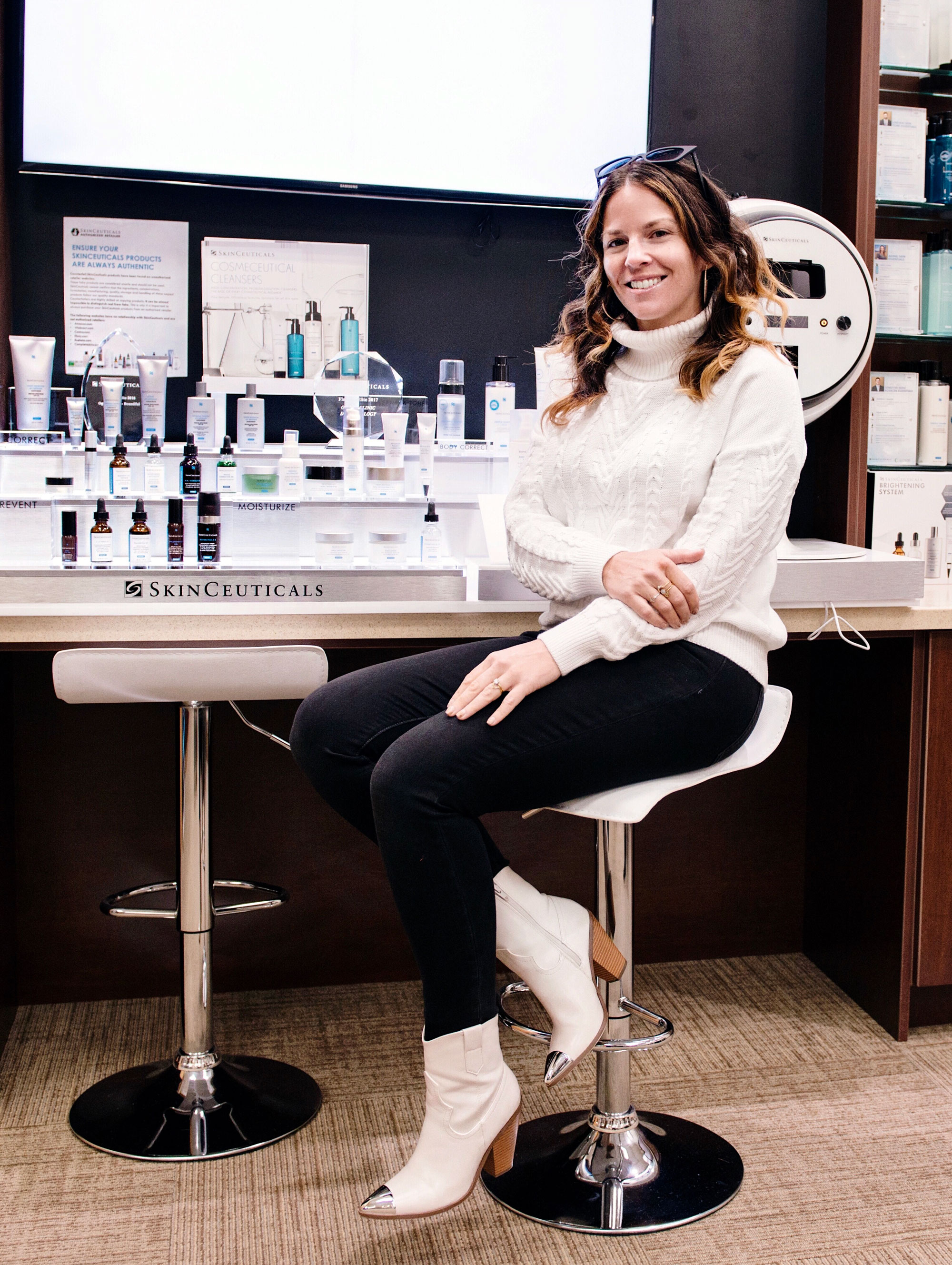 Given that I am really still a bit of a skincare newbie, I was a little intimidated by the vast array of products in the SkinCeuticals line, so the fact that I had a licensed professional to help me make the right choices in products made the whole process enjoyable rather than overwhelming.
First off, I had such a blast with April and Cami, the two estheticians that conducted my facial. I love that they took their time to really explain each product in detail, what it does, and all of the benefits I will reap from each one. April even offered me her number to go-over my new skincare routine when I got home. (check out the facial on my BEAUTY IG story on Instagram @chicdisheveled)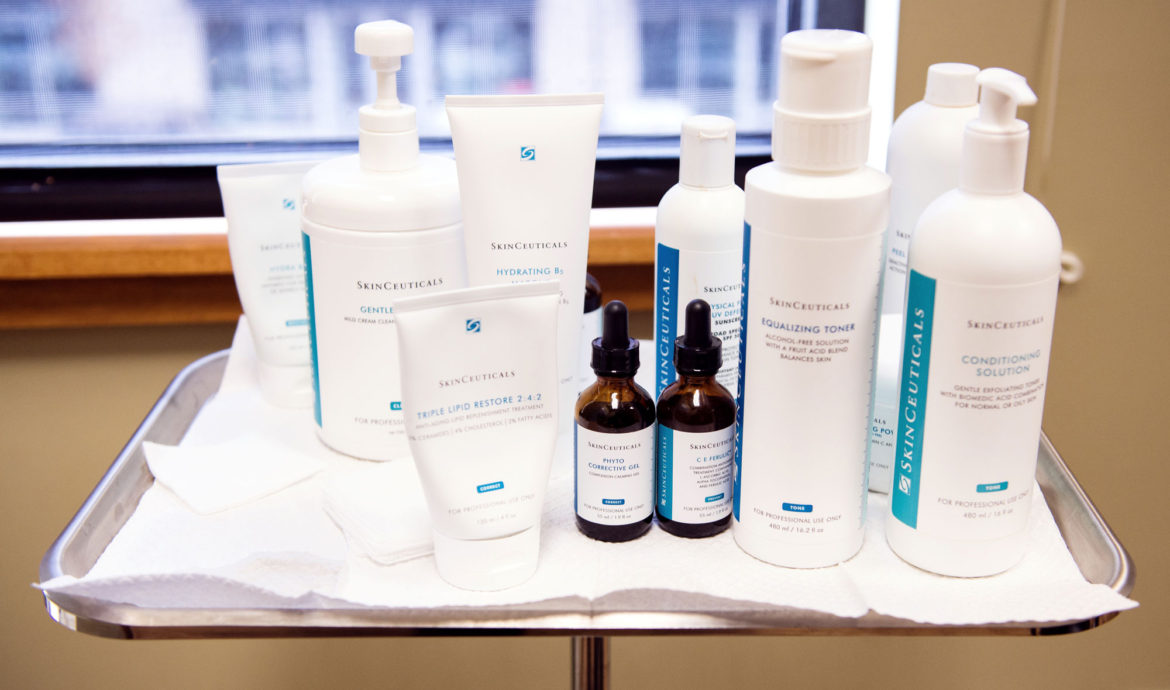 The Triple Lipid Restorative Protocol Facial was nothing short of amazing. April described it perfectly when she said "you know how good your teeth feel after a cleaning? Well this is the same thing, only for your face." She was absolutely right.
After the facial my skin felt rejuvenated, moisturized, and clean. Not the over-cleansed where did all the oils on my face go clean, after you have been stripped dry, but genuinely clean and healthy. In one word, I was STOKED.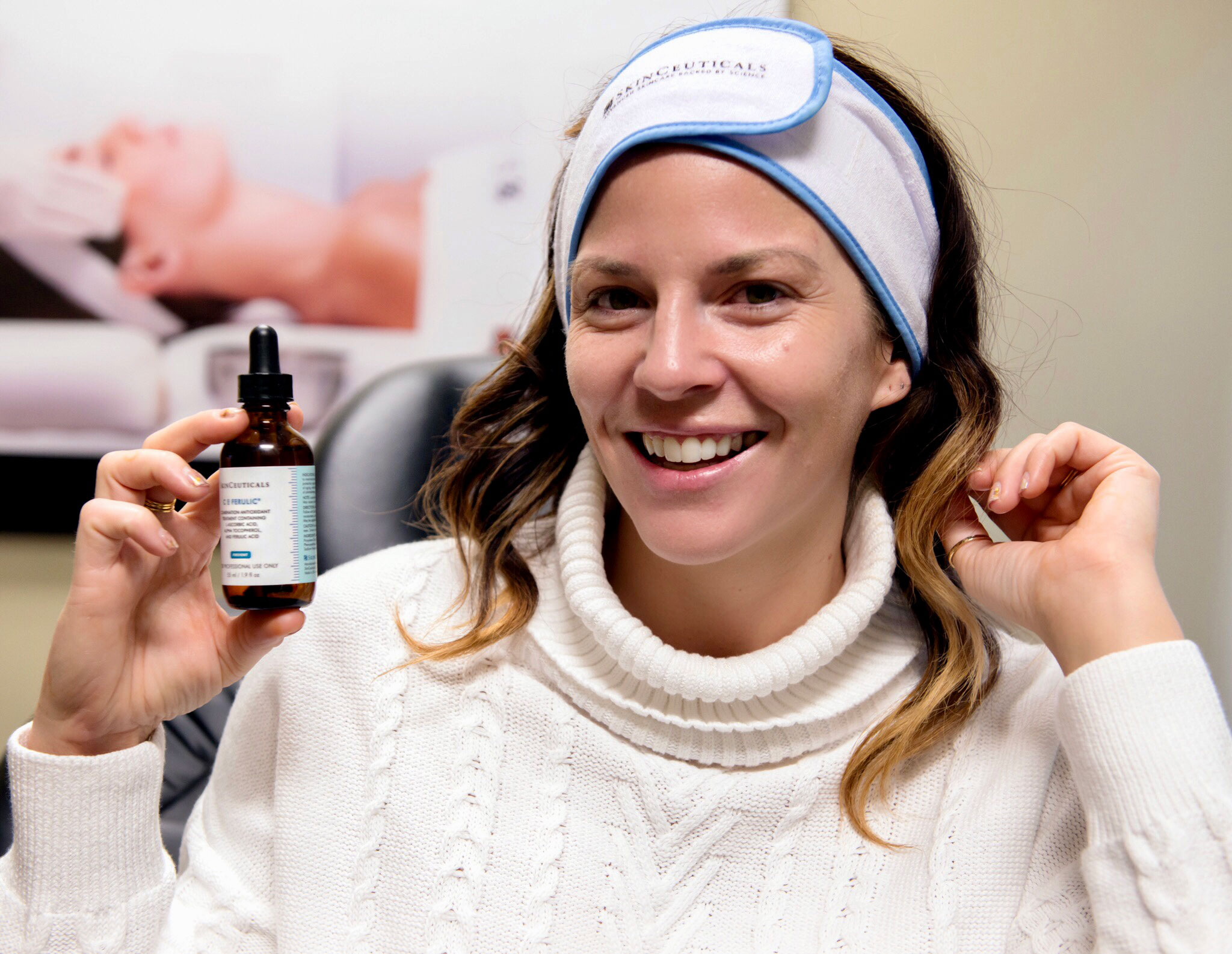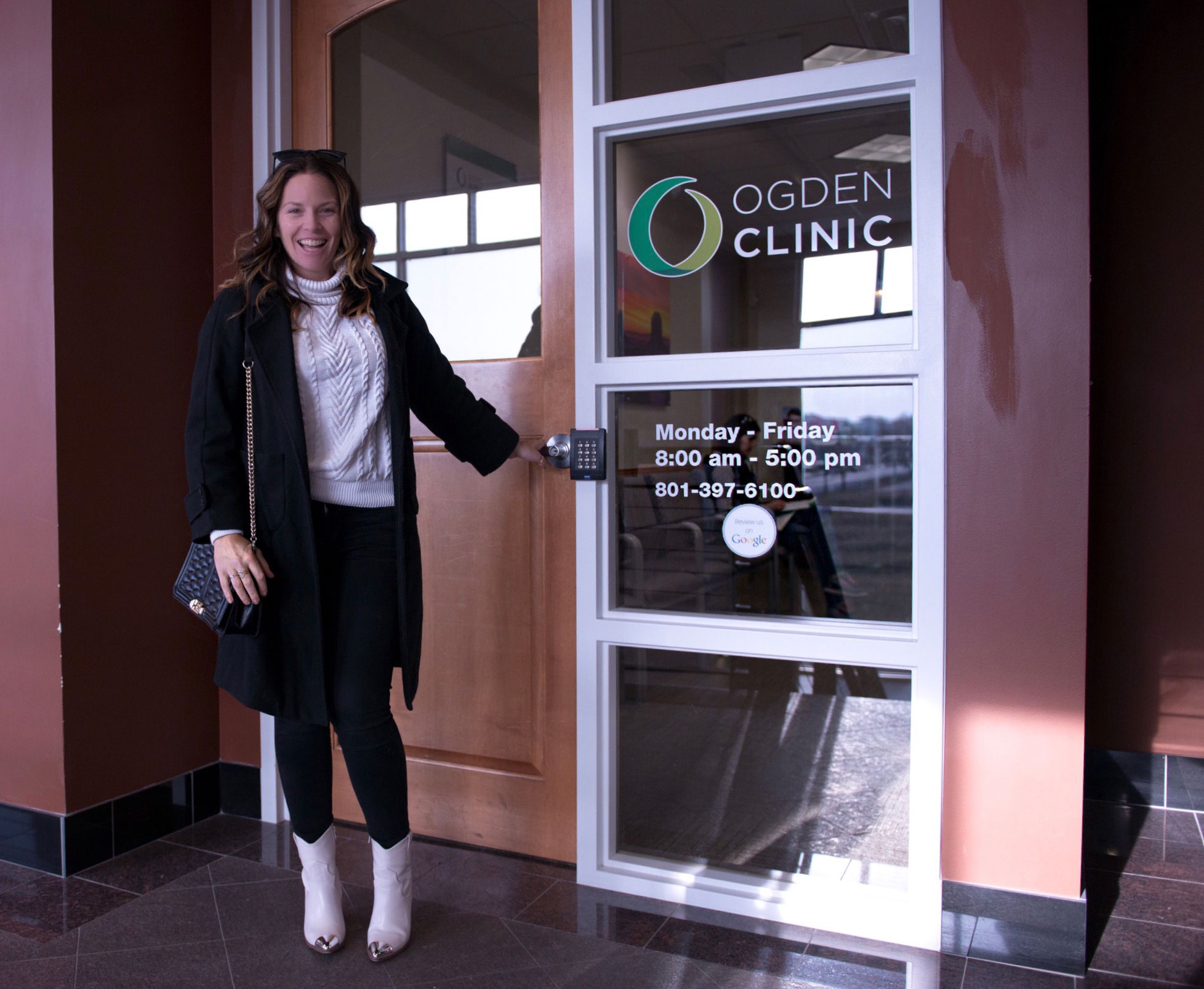 MY WINTER-PROOF SKINCARE ROUTINE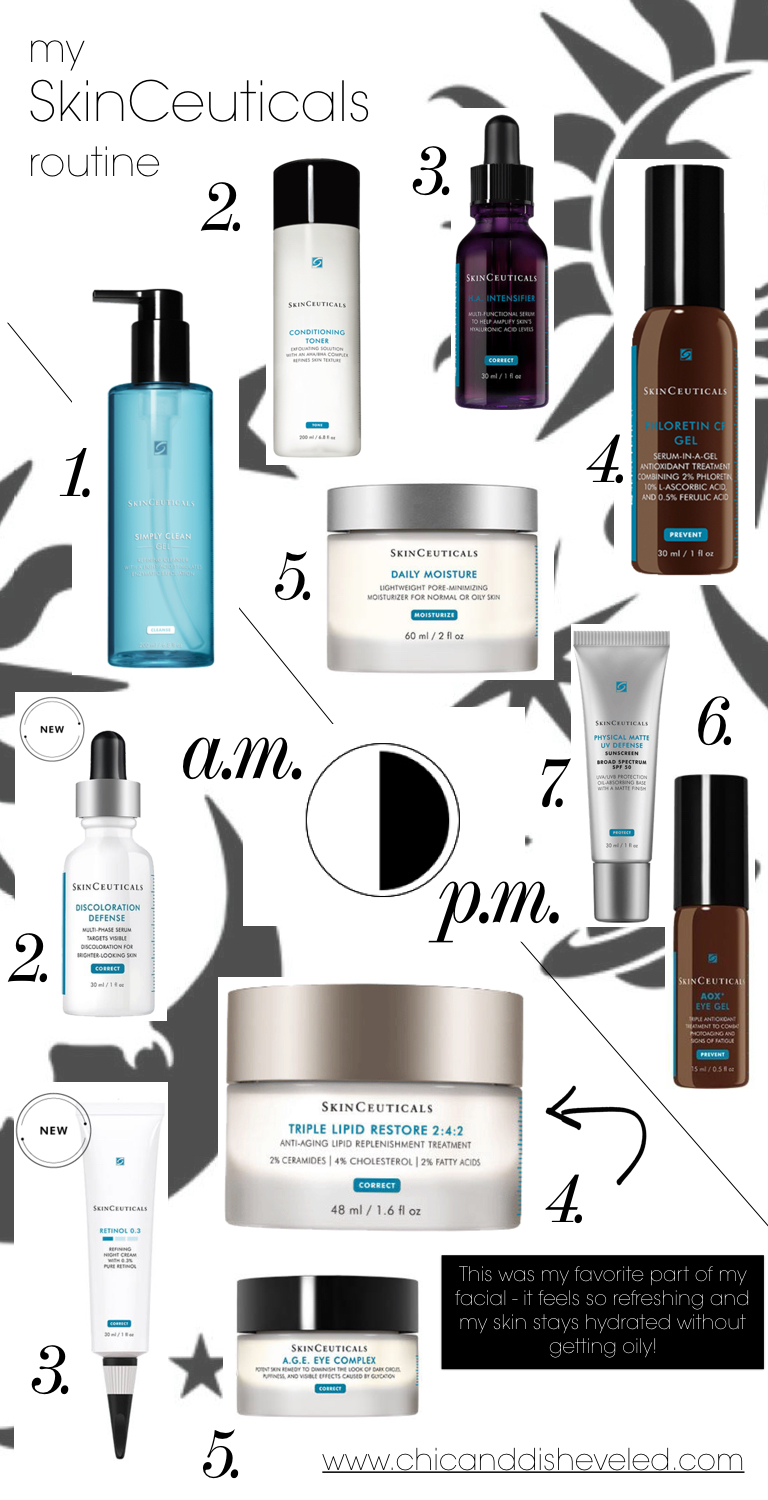 Upon the completion of my facial, April created a customized regimen for me to use at home and I am linking all the goodies for you below. Keep in mind this is what is best for my skin, you might need a whole different bag of tricks.
So my best advice is to check out the SkinCeuticals website and find an April of your own to get the Triple Lipid Restorative Protocol Facial to really cleanse your skin, and help you customize your very own routine. Here is the link to find an authorized Spa or Clinic.
My A.M. Skincare Routine
Simply Clean Cleanser – Dampen hands and then add a dime size of the cleanser in your palms and massage into your skin for 60 seconds.
Conditioning Toner Exfoliating Solution – Dry skin 100% then apply the conditioning toner with a cotton round.
Phloretin CF Gel (Vitamin C) – Use dropper to apply 3-5 drops of the Phloretin on the back of your hand, then use fingertips to apply on your face and sides of your neck. **PRO TIP: Your hands absorb a TON of product, using the back of your hand like a dish, and applying products like serums and gels with your fingertips will make your product last longer.
AOX Eye Gel – Apply 1/2 pump per eye on fingertips. Apply on the area below the eyes, on the outer corners, and on the brow bone. Gently pat the gel until it is completely absorbed. Do not apply product to the inner corners near the tear ducts, below the brow bone, or on the upper lid.
H.A. Intensifier Corrective Serum – use this immediately following the eye gel, and let it sit for a good 5 minutes
**this is a great time to use a jade roller if you have one to really make the serums sink in. I like using a jade roller in the mornings because it revitalizes the skin and really wakes you up and gets your feeling energized. Jade is said to have properties of peace, wisdom and balance. #Yesplease
Daily Moisture (super lightweight for normal to oily skin) – Apply the moisturizer and really let it sink in **this is a great time to do your hair.
MY P.M. Skincare Routine