Must-Have Essentials for a Paris Getway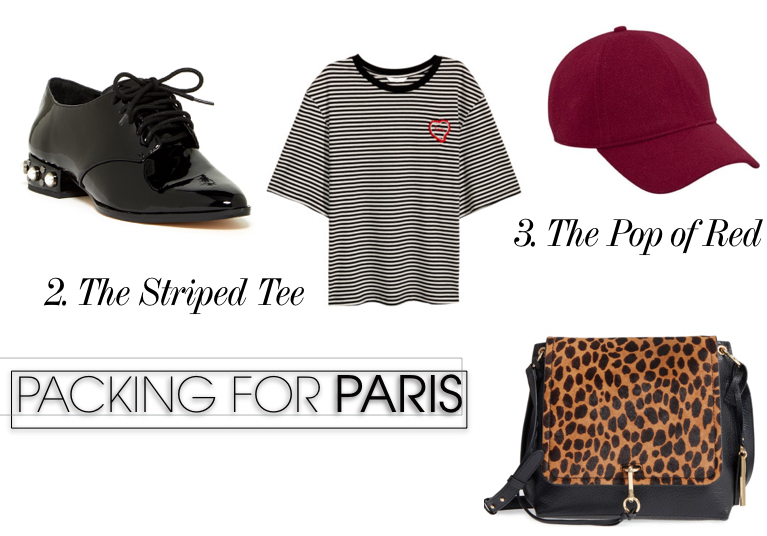 Bonjour!
I am so excited to share that I am jetting off to Paris next week with the fambam for the Thanksgiving holiday! So I best brush up on my French Pronunciation skills! Many of you probably don't know this but my brother Adrian moved to France a few years ago with his wife Roxanne who was working there, and they just had the cutest baby boy!
I have always been a bit Paris-obsessed from the lifestyle and clothing to the culture…its so 'I don't give a sh*t' but I'm gonna look cool doing it. Besides anyone who can live on wine, cheese and bread automatically earn a special place in my heart. 🙂
This trip I am packing my suitcase full of edgy twists to classic essentials, from the perfect trench coat to comfy flats with 'notice me' embellishments. Shop my faves below to add a little joie de vivre to your wardrobe!
---
---
MY PARIS PACKING LIST
---
EMBELLISHED FLATS – SOLE SOCIETY
RED FELT BASEBALL CAP – SAN DIEGO HAT CO.
LEOPARD PRINT CROSSBODY – VINCE CAMUTO
HAMSA TALISMAN CHOKER – SEQUIN JEWELRY
PATENT LEATHER MINI SKIRT – FOREVER 21
---