Chic Shopping // The Procrastinators Gift Guide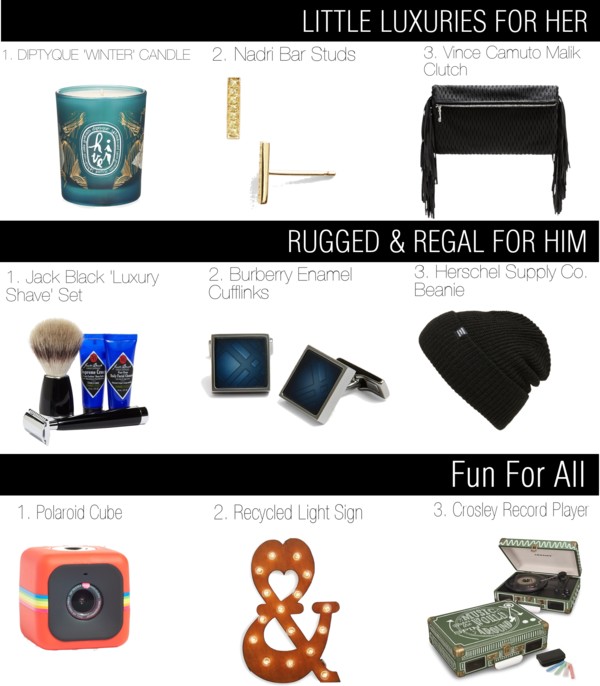 I just looked at my calendar and realized that there are 10 days until Christmas and I have done absolutely ZERO shopping. Uh-Oh! Not to worry though, thanks to online shopping at Nordstrom you can shop and ship (free of charge) without even having to worry about crowds and traffic!
I love shopping as much as I love coffee…so A LOT! But for those of you who dare I say hate shopping and find gift giving to be a difficult task, fret not! I have scoured the Nordstrom site for you and found some of the best gifts of the season with time to spare so you can get those gifts under the tree just in time for the Ho-Ho-Holiday! These are quite a luxury range of products so if you're on a tight budget you might be better opting for the ultimate crowd pleaser; the Personalisierte Foto Tasse, which is sure to produce some happy faces.
FOR HER:
1. Diptique 'Winter' Candle ($34-68): This limited edition candle smells like winter pine and isbeautiful to display! Plus, Diptique candles last forever and make great vases once the candle burns out!
2. Nadri Bar Stud Earrings ($38): Studs are making a come back in a huge way! This pair by Nadri is perfect for everyday, but glam enough to go from day to night!
3. Vince Camuto Malik Clutch ($198): Fringe is fun and festive and will be sticking around this Spring! I love this black clutch by Vince Camuto because its large enough to fit essentials like my phone, keys lipstick and sunglasses but will still fit in my work tote.
FOR HIM:
1. Jack Black Luxury Shave Set ($200): Give him the gift of a close shave. Something you can both enjoy again, and again…and again!
2. Burberry Enamel Cufflinks ($195): For the man in your life that is styling and profiling. I love the color and finish of these cufflinks, the enamel makes them a bit more casual plus there is subtle nod to the iconic Burberry pattern without going overboard.
3. Herschel Supply Co. Beanie ($20): Who doesn't love a man in a beanie?! Keep him warm while upping his street style cred!
FOR EVERYONE ON YOUR LIST:
1. Polaroid Cube ($99): I love how photos captures moments in time forever. The Cube captures video and photos on the fly, and can be used as a dash camera as well!
2. Universal Ironworks Sign ($118): I am obsessed with marquee signs lately and this awesome company has a multitude at an affordable price!
3. LTD Edition Crosley Record Player ($100): Give the gift of music! Collecting vinyl has become an unexpected passion of mine! This crosley Record player was made exclusively for Nordstrom and has an input cord for you iPhone.
For more great gift ideas be sure to check out Nordstrom.com! They even have an amazing online Gift Guide sorted by category to help you find the perfect present for that special someone!