Chic & Fit // Pack the Perfect Gym Bag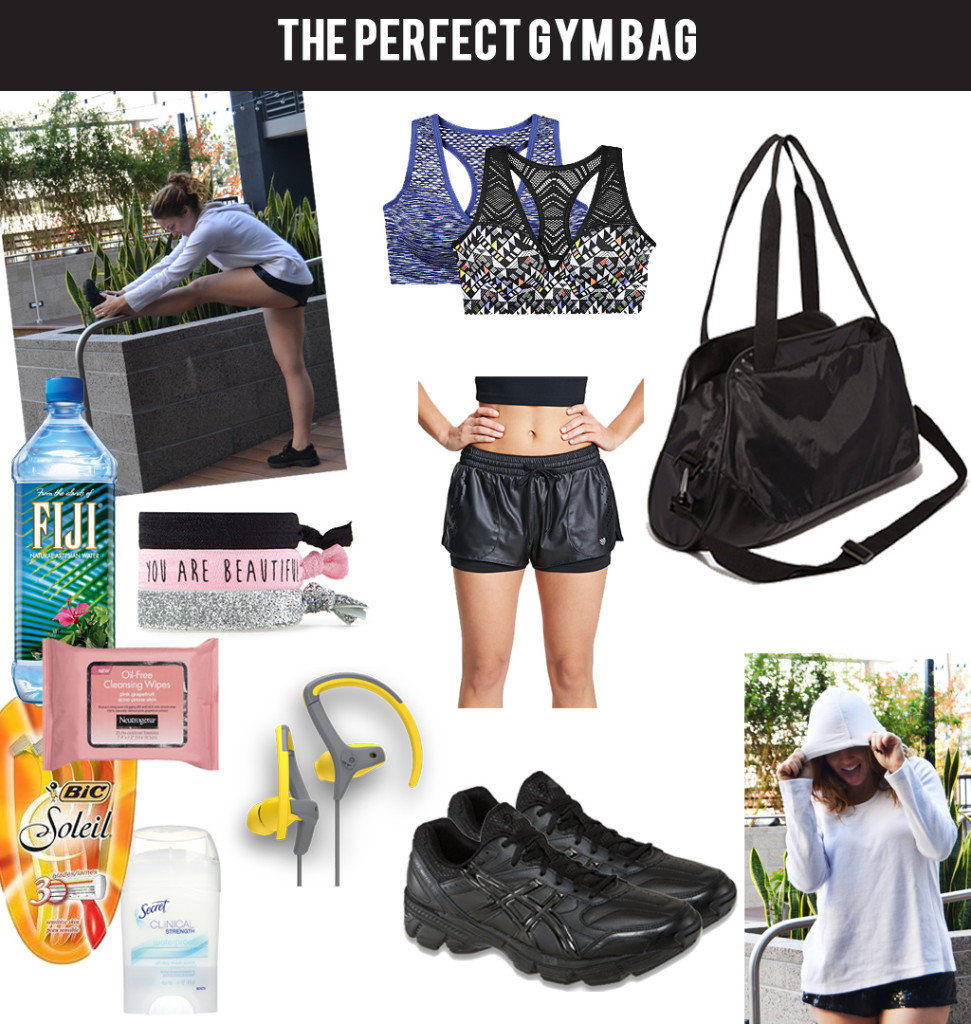 I love to work out! I have found exercise to be a great way to take time to unplug from daily stress, regain mental clarity, sweat out frustrations, and just plain stay in shape. You may find that going to https://www.leanwarriors.com/ helps you to do this. One really great way to get motivated for sweat sessions if you are not as fond of the gym as I am is to fill your gym bag with some fun workout gear that you cannot wait to wear! Gym clothes are also a great place to explore fun options like neons, or prints! Try a basic legging and pump things up with a bright bra and printed tank. You may not realize but dressing for the sport is as crucial to working out as the activity itself! Having the appropriate gear for a good workout is not only another area of opportunity to go shopping (yay!) but can either enhance or impede your workout. To get you started I have assembled a few of my favorite products I keep on hand to break a sweat in style!
Goodie Bag: Depending on what kind of exercise you like, it's important to find a gym bag that can fit your necessities. Do you need to be able to hold a yoga mat or any additional accessories? I also recommend finding a bag made of a material that can easily be washed since you are going to be toting sweaty gym clothes (and shoes) around. My pick is from Forever 21, its stylish, roomy and machine washable!
Stay Hydrated: It should go without saying that H2O is a daily essential regardless of working out. I like to keep a spare water bottle in my bag just in case I forget mine so I don't have to make frequent trips to the drinking fountain. I have learned not to spend too much here because after a while most water bottles adopt a less than savory aroma so instead, I opt for 1 liter Fiji water bottles so I can track my water consumption throughout the day, then recycle them when its time for a replacement. Men may want to keep supplements like testosterone booster from Sculpt Nation in their gym bag for ease of access too.
Suit Up: All gym clothes are not created equal! Throwing on frumpy old sweats is no way to get motivated! I love cutting up old t-shirts to throw over my sports bra which is a great way to add some signature style to your look! I am pickier about workout pants and sports bras because there are certain materials designed to prevent irritation to your skin and also pull sweat away from your body. Personally I love a line I recently discovered called Graced by Grit because it's affordable and fun to wear! After workouts I live in my RNR Hoodie from their Relax and Recover line, it is the perfect post-workout top to keep me warm on the walk home.
Fancy Footwork: The running shoes you select are the most important purchase to consider in your gym bag. Depending upon what kind of exercise you enjoy there are hundreds of styles to choose from, so head to a local sports shop and ask an expert. DO NOT under any circumstance buy a pair of running shoes just because they are cute, make sure they are comfortable. Plus, they don't have to be the most expensive pair of trainers, just as long as they are comfortable and helps you work out effectively, that's what should matter. Check out sites such as vessifootwear.com to see what I mean by choosing a pair of trainers that will provide you with a good level of comfort. Plus, if they do happen to be cute, that's a bonus.
Blisters and bruises are soooo not sexy! I have found Asics to be a perfect fit for me and am currently rocking the GT-1000 in black.
Hair Raiser: My hair has a mind of its own, at the gym is usually when it likes to remind me of that. I cannot stress enough the importance of headbands, bobby pins, and hair ties when working out. They keep hair out of your face and sweat at bay. Keep an eye out for brands that have no metal casing to help limit damage to your strands, Forever 21 has some really cute ones right now. I always like to keep extra hair ties on hand in case mine break. Top knots and pompadours are my two faves go-to hairstyles after the gym since they are supposed to look kind of undone anyway.
Extra Essentials: Once you have got the basics covered to make a mental note of anything you wish you had while working out. An essential that I can't leave the house without is hand-sanitizer. I use this to clean my hands after a workout, as I don't always have access to a sink and water at the gym. This is essential for me, and it should be for you too. Here's something else I cannot do without. Personally, I cannot work out without music so my iPhone + Spotify Running playlist and some Skullcandy earbuds are crucial! I usually shower at home after a workout so I keep cleansing wipes on hand to help banish breakouts. That being said, nothing is worse than forgetting to shave under your arms and being too embarrassed to raise your arms for those tricep extensions so I like to have razors and deodorant on hand for emergencies! For those of you who do get ready at the gym, I would recommend a change of clothes, a towel, and flip flops so you aren't running around barefoot!
What workout you choose doesn't matter so much so long as you like it enough to keep going! Whether you are boxing, hiking, biking, swimming, or striking a yoga pose taking the time to care for your body is essential for feeling and looking great. I love my boxing workouts at AO8 Training and find they offer enough of a variety of classes to keep me interested. New to the gym scene? The buddy system is a great way to get going! So crank up those tunes and hit the ground running!
{Thank you Graced by Grit for sponsoring this post! All writing, styling & thoughts are my own.}